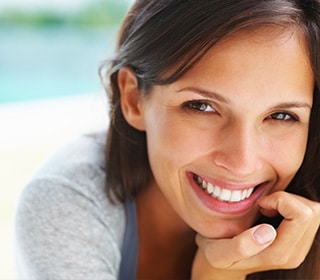 When you see someone smile and their smile is bright and white, do you wish you too could have a smile that fabulous? Do you have a big event coming up, like your sister's wedding or an important presentation you are scheduled to make, or an upcoming job interview where you would like to make a good impression? Having a brilliant smile is a confidence builder!
Getting a fabulous bright white smile is now easier than ever! At Spring Valley Dental Care, we offer two teeth whitening systems that can take your smile from blah to awe!
Our Teeth Whitening Treatments
For our in-office teeth bleaching system, we offer Zoom! teeth whitening. Zoom whitening is an incredible teeth-bleaching procedure that can be accomplished in one office visit! You come into our Spring Valley office, receive our Zoom whitening teeth bleaching procedure, and walk out with teeth that can be eight times (or more) brighter than when you walked in.
The Zoom whitening teeth bleaching system is quite simple.
To begin the teeth whitening process, we ensure your teeth are clean.
Then, we prepare your lips and gums for the Zoom whitening teeth bleaching procedure.
Next, we paint the Zoom whitening gel on your teeth.
Finally, we shine a light on the Zoom whitening gel, and the Zoom teeth whitening process is complete! Your teeth are whiter than before, looking dazzling!
For your convenience, we also offer a professional take-home teeth bleaching system. This involves making a set of plastic trays you fill with professional teeth whitening gel and sliding the trays onto your teeth. This teeth whitening process is a more gradual process and usually gives you a smile that is about 3-4 times brighter than your original smile. However, this professional teeth whitening option is far more effective than what you could get with an over-the-counter teeth whitening kit.
How Teeth Whitening Helps You Smile Better
What are the benefits of choosing Dr. Yahya's teeth whitening treatments at Spring Valley Dental Care? Not only do you get a more cosmetically appealing smile, but you also will:
Feel Better About Your Appearance | People will notice your white smile. This can help you at work, with your relationships and make you feel better about yourself.
Have a Smile That Minimizes Facial Wrinkles | A whiter smile can draw attention away from your wrinkles. People will compliment you and notice that you look younger.
Enjoy Life | You will feel more confident and will be able to smile for photos. Your whiter smile will also empower you to take better care of your teeth.
Teeth Whitening Aftercare
After your teeth whitening, there are a few aftercare instructions that Dr. Yahya will provide. These will help maximize your treatment and make sure that your smile lasts:
Avoid smoking, colored beverages (such as soda and coffee), and colored foods for about 24 hours after your treatment.
Rinse your mouth after each meal.
Brush and floss regularly to make sure that your smile makeover stays white.
Communicate with Dr. Yahya about tooth sensitivity.
Most importantly, practice good dental hygiene. You've just made a substantial investment in your smile, and regular brushing, flossing, and rinsing will help keep your white smile for years to come.
If what you are yearning for is a bright white smile, call us today! Of course, you can also fill out an appointment request form.