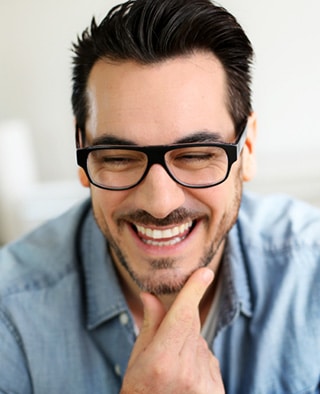 One of the most exciting and up-to-date developments in dental technology is the dental laser used by a trained laser dentist. At Spring Valley Dental Care, we are pleased to offer this laser dentistry technology to our patients in Spring Valley, La Mesa, and nearby areas.
In many dental procedures, using laser dentistry can make a remarkable difference.
What is a dental laser, and how does it work?
A dental laser works by transmitting energy in the form of a thin beam of light. With laser dentistry procedures, the dental laser acts as a cutting instrument. When used for finishing a filling, the dental laser can strengthen the bond between the filling and the tooth. When used in teeth-whitening procedures, the dental laser acts as a heat source and augments the effect of the tooth-bleaching gel.
What Are the Benefits of Using a Dental Laser in Laser Dentistry?
Compared to the traditional dental drill:
A dental laser can be less painful for some people, and in some instances, so less anesthesia is needed.
A dental laser may minimize bleeding and swelling during certain laser dentistry treatments.
A dental laser may preserve a more healthy tooth when the laser dentist is treating a cavity.
A dental laser can assist in treating canker sores and cold sores.
A laser dentist may use a dental laser while screening for cancer.
A dental laser can help with teeth-whitening treatments to enhance (and quicken) the teeth-whitening gel.
A laser dentist may use a dental laser for wisdom teeth treatments.
A laser dentist may use a dental laser in root canal procedures.
A skilled laser dentist, when practicing laser dentistry, can make many dental treatments and procedures less painful, quicker, and more efficient and effective. This means you are getting excellent treatment that can save you precious time and can be more comfortable!
Dr. Yahya is proud to practice laser dentistry and wants to be your favorite laser dentist! Call today or fill out an appointment request form!